The AJ 40 under 40 practice, formed by Carlos Sanchez and Tom Benton who both teach second year studio, produces work that while deceptively low-key is materially rich
Having met at last-generation 40 under 40 practice 6a architects, where they both worked on the RIBA Stirling-Prize shortlisted Juergen Teller Studio project, Tom Benton, 34, and Carlos Sanchez, 37, set up practice together in 2017. Their combined experience also included stints at Jonathan Woolf, David Chipperfield and Dow Jones.
They ground their approach in thorough research, considering the background and 'cultural setting' of each project, and not just its physical context, as key. It is, they say, an effort to develop buildings that add social value to their surroundings as 'frames for life'.
This approach has served to transform the early low-budget commissions on which the practice cut its teeth into quietly distinctive projects, 'richly economical', as they describe them, making 'generous architecture with a strong identity'.
Examples are the contemporary art gallery, The Sunday Painter, carved out – with a double-height gallery – from two disused corner shops in Peckham, and the transformation of a modernist podium structure at Peveril Gardens, Southwark, into artists' studio spaces sitting under a walled garden.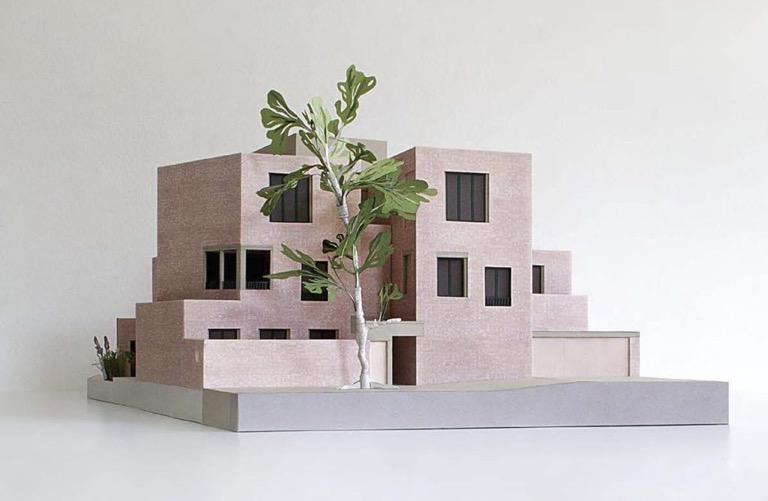 Model for a nine-unit apartment block, Marischal Road, Lewisham
Their recent Lock Keeper's Cottage project in Islington encapsulates this approach. Here, the need to stabilise a subsiding canalside structure led them to flip this 'design challenge into a design thread', inserting a new concrete frame as an organising device for the whole scheme.
The often deceptively low-key but materially rich results exhibit a directness of structural and textural expression and a notably passive energy, low-carbon approach, one clearly informing larger projects now in the pipeline, including a community centre and apartment block.
Milestones
2017 Sanchez Benton founded. Completes The Sunday Painter gallery, Peckham
2019 Completes Holyrood Street pavilion and masterplan, Southwark
2020 Completes Lock Keeper's Cottage, Islington. Wins planning permission for nine-apartment block in Lewisham. Wins competition for Boiler House Community Centre, George Downing Estate, Hackney