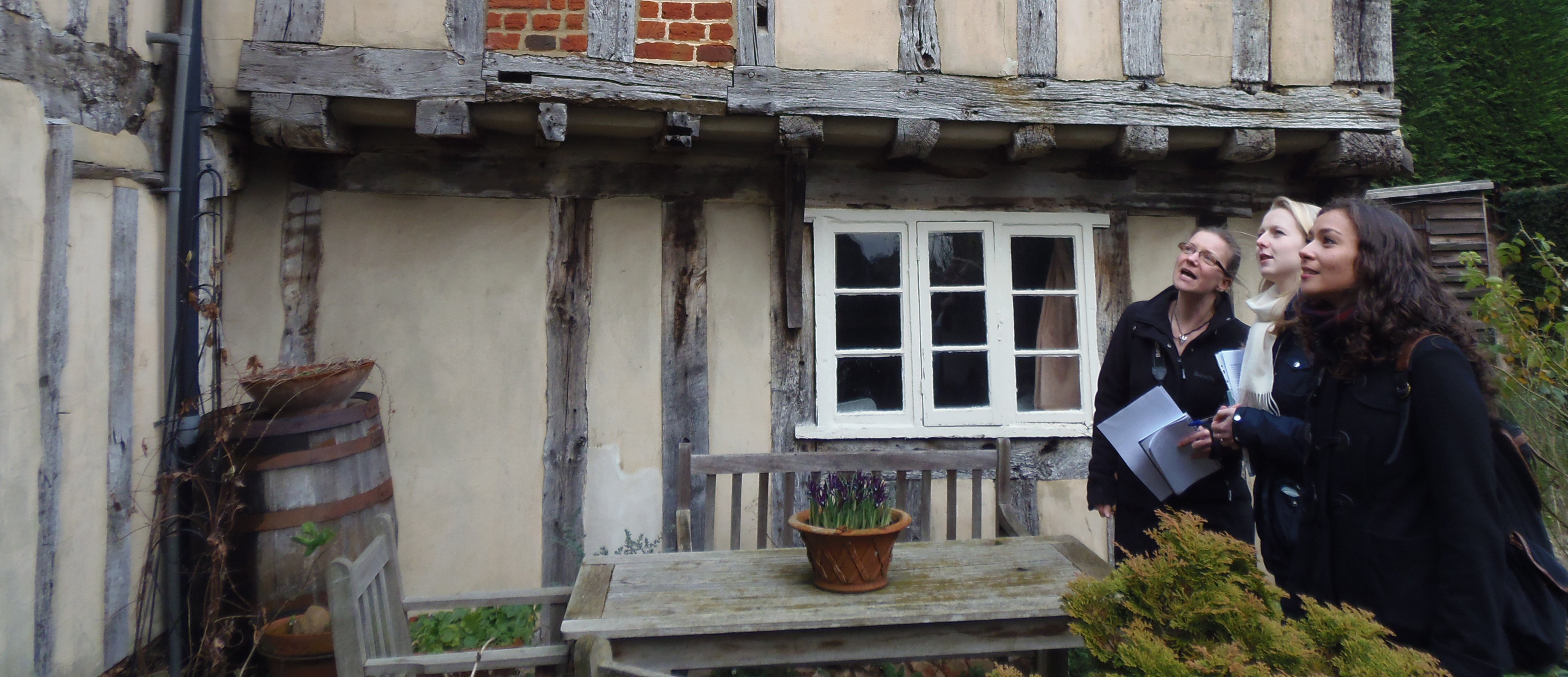 The MSt in Building History is unique in providing a Masters course combining British Architectural History with practical tuition in interpreting building fabric. Students are taken from a wide variety of backgrounds. The course is heavily taught in the first year by invited speakers. Lectures are matched to field trips. The emphasis is on learning to research, record and assess historic buildings. By the end of the first year students are expected to be able to date buildings from their details and unravel their evolution. They are also given instruction on how to investigate and survey historic structures. The second year is divided between professional experience and a personal research project which constitutes the thesis.
If you would like to learn more about the course and chat to the Course Director, Dr Adam Menuge, please contact the MSt Building History Course Administrator on: building-history@aha.cam.ac.uk who will add your name to the attendance list and contact you later.
The session will cover all aspects of the course including:  academic requirement, the modules, residential sessions, professional placements etc., and we also welcome any questions you may have in a Q&A session. 
The course has been designed by the Faculty of Architecture and History of Art in close association with Historic England and the Institute of Continuing Education at Madingley Hall.
It teaches both academic and professional knowledge, placing particular emphasis on practical skills of building investigation and analysis. It stresses the importance of rigorous documentary research. Students are taught methods for assigning value and significance, and how to understand buildings in their historic landscape context. 
Course Delivery 
Students taking the MSt will enjoy a wide range of lectures from expert speakers. The lecturers come from a variety of academic and professional backgrounds, all experts in their fields. See the Contributors section for more detailed information. The subjects covered include the history of building types, stylistic development, materials and construction, historic building recording, conservation and heritage management. Lectures are delivered in three residential courses in the first year, arranged chronologically, covering the periods from the beginning of the Middle Ages to the present day. Mornings are spent in lectures. Afternoons are spent on visits, accompanied by the lecturers, to buildings of interest, where structural, stylistic and typological issues can be explored in situ. Skills of observation, analysis and interpretation are taught and developed.  Practical skills in building surveying and recording are also developed through a variety of field exercises and workshops.
Background of applicants
The Department's two-year part-time MSt in Building History is an interdisciplinary Masters degree aimed at applicants with professional interests and ambitions in architectural history, buildings archaeology, historic building conservation and heritage management, and is specifically intended to be compatible with in-service career development as well as with embarking on a new career while continuing to work.   It is aimed particularly at:
students from a wide variety of backgrounds – particularly archaeology, architecture, art history and history – who wish to become building historians or to apply building history skills in a broad range of heritage-related fields;
existing historic environment professionals wishing to formalise or extend their historical understanding of the built environment;
particularly able candidates hoping to proceed to doctoral research on a related topic (students must achieve a mark of 70% or higher to proceed to doctoral research and must find a suitable supervisor within the university to continue at Cambridge). 
Information for applicants
Course length and dates of course:
2 years, October start.
Saturday 12 October – Sunday 27 October 2024
Saturday 25 January – Sunday 9 February 2025
Saturday 3 May – Sunday 18 May 2025
Saturday 14 June – Friday 20 June 2025
Fees and funding
The fees for 2024 – 2026 will be £9,000 per annum for Home students and £13,800 per annum for International students. This includes both the tuition and college membership fees.
Students will be expected to cover the application fee (£50 online) and any costs of travel (except travel costs arising from visits organised as part of the course), accommodation and subsistence during residential sessions in Cambridge.
Sources of government funding and financial support - including Professional and Career Development Loans
MSt Building History students will become members of Wolfson College, which was  specifically established for mature and graduate students and also welcomes part-time students.
How to apply
Applications will be accepted online from mid-September 2023 until 27th June 2024.
Read the MSt Application Guide to find out more about the application process and what you need to do, and consider, as a potential applicant. 
Apply online when you are ready to start the application process.
Application deadline:
27 June 2024.
Academic requirement:
Candidates accepted for this course will normally have at least a 2i honours degree from a UK university or equivalent.
International students:
International students must obtain a part-time student visa and may not undertake their professional placements in the UK.  Therefore they need to identify an overseas placement within the terms of the Placement Guidelines (see link above).   
Further information can be found at: 
https://www.internationalstudents.cam.ac.uk/immigration/student-visa-part-time
Students whose first language is not English must meet the University's minimum English language requirements for this course:
| | |
| --- | --- |
| Test | Score requirement |
| IELTS | Overall band score of 7.5, with not less than 7.0 in speaking, listening, writing, and in reading. |
Course code: ARM12
Course Director: Dr Adam Menuge
Course Administrator: Alexandra Lumley
Course Management Committee:
Professor James Campbell (Architecture)
Dr Frank Salmon (History of Art)
John Cattell (Historic England)
Dr Wendy Andrews (Architecture)
Emily Cole (Historic England)
Please note that the administration of applications to this course is handled by the Department in conjunction with the University's Institute of Continuing Education at Madingley.
For all enquiries please contact the Course Administrator Alexandra Lumley.