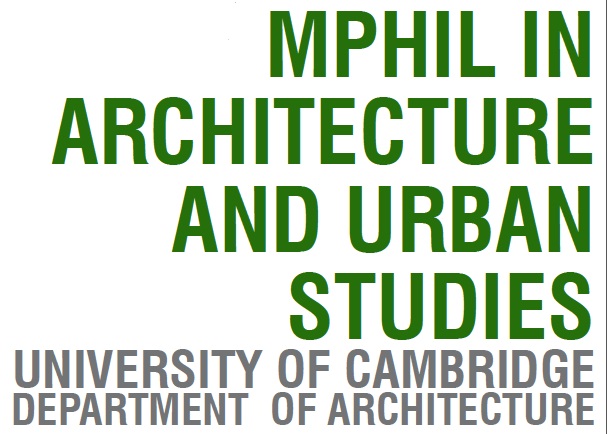 Sustainability and Environmental Design
Socio-Politics and Culture of Architecture and the City
The MPhil in Architecture and Urban Studies (MAUS) is a programme of advanced study on modern and contemporary architecture and the continued development of cities around the world.  Students from a variety of academic backgrounds work in an interdisciplinary environment with urbanists, environmental specialists, architectural theorist and historians, as well as with design practitioners.  In such an environment, students will explore a wide range of ideas, research methods and theoretical approaches in order to undertake critical and rigorous analysis of issues relating to both architecture and the challenges and complexity of the world's rapidly changing cities. The course entertains close connections with the Masters in Architectural and Urban Design enabling research-driven dialogue with designers.
Course content
The course offers a flexible structure that is tailored to the needs of individual student's research interests. Seminars and lectures are organised along two basic strands:  1) one focuses on sustainability and environmental design from a more technical point of view;  2) the other emphasises the socio- political and cultural context of architecture and the city with an approach rooted in the humanities and social sciences.  Students may participate in both strands, but can also focus on one only.  In the second term there is choice of more specialist seminars within both streams.  Students are actively encouraged to explore issues across these basic disciplinary boundaries.  The course asks students to expand upon their own experiences by pursuing research in their areas of interest.
Teaching
Teaching is delivered through a combination of lectures, seminars and workshops, which are supported by individual supervisions. Individual supervisions are an essential part of the programme: they help to assist, direct and monitor progress of students' work, while at the same time providing continuous feedback throughout the course.
The weekly lectures and seminars, plus additional research workshops, provide a framework to explore a variety of research approaches from a range of relevant disciplines available in the Department. Students receive general seminars and specific guidance on research methods, the use of libraries, and writing techniques. An initial selected bibliography is provided prior to the start of the course to allow students to begin their preparation. Upon arrival to Cambridge, the bibliography is supplemented by guidance on further reading in the seminars and supervisions. Guidelines on coursework essays and dissertations are given in general terms and more specifically in supervisions. Research methods, techniques and analytical skills are developed through the lectures, coursework and a dedicated training course.
The teaching methodology also includes individual research activities, oral presentations and written essays to encourage students to identify and solve problems. These activities are supported by regular feedback sessions and in supervisions. This methodology, particularly through specialist supervisions, is built upon when the student embarks on their independent dissertation or design thesis research programme.
Students are also offered a series of hands-on workshops on computer modelling, physical laboratory testing and receive guidance on the use of environmental sensors and loggers.
The course is intense and demands effective time management.
Feedback
Students will be provided with feedback via seminar and workshop activities, coursework feedback, review exercises, supervisions and the supervisor's termly reports.
Assessment
Thesis
The dissertation of not more than 20,000 words represents 50 per cent of the overall mark. The word count includes footnotes but excludes the bibliography. Any appendices will require the formal permission of your supervisor who may consult the Degree Committee. Students submit two hard copies and one electronic copy of their thesis for examination during May.
An oral examination (viva voce) on the dissertation and on the general field of knowledge within which the work submitted falls may be required. Students must remain in or be prepared to return to Cambridge for such oral examination, which will be held in June.
Essays
Two essays (or one essay and one equivalent coursework) of 3,000–5,000 words and a dissertation proposal of 1,500–3,000 words, each including footnotes but excluding the bibliography, on topics approved by your supervisor and the Faculty, and a presentation will be presented for examination. Each of this will be submitted at the end of the Michaelmas term, Lent term and beginning of Easter term.
Students must submit two bound paper copies and one electronic copy of each essay, with a bibliography and any relevant illustrations to be submitted with the text.
Click here to view recent projects.