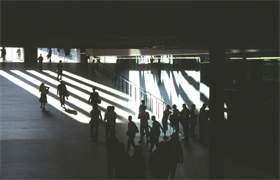 Mary Ann Steane was commissioned by Routledge to write a book about the architecture of light.
An appraisal of lighting strategies is always potentially an appraisal of ideas about space, about spatiality, about how lighting can orchestrate form and movement, and about how the visual environment shapes patterns of human occupation.
Unlike reference books that offer detailed guidance on the technical background to lighting design, or works in which the role of light has been appraised either in very general terms by taking an overview of a large number of historical and contemporary buildings, or more narrowly from the perspective of aesthetics, this book examines contemporary approaches to light by offering a series of in-depth studies of projects from across the globe.
Concentrating on more recent work it aims to compare and contrast modernist and contemporary attitudes to light and to give a nuanced evaluation of these lighting strategies by setting them within their broader topographic, climatic and cultural contexts.
The book, The Architecture of Light, was published by Routledge on 21 April 2011.