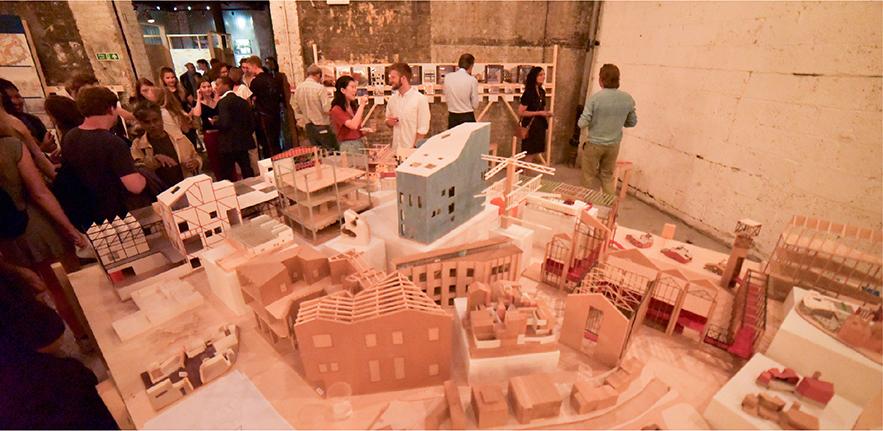 The end-of-year exhibition was held this year in a disused wharehouse next to the Nicolls and Clarke Lofts. This extraordinary venue, was located down a small alleyway just off Shoreditch High Street, only a few hundred meters from Liverpool Street Station. It offered a variety of intriguing spaces, including a large top-lit triangular 20th century corrugated steel shed and a dramatic 19th century wharehouse building, complete with hoists and lifting gear.
As always, the move to London was orchestrated entirely by the students through ArcSoc, with over £25,000 being raised from a series of highly successful events over the course of the academic year. The exhibition was launched with an event on the evening of Wednesday 4 July. The main space featured the third year studios. Large banners hung from the long wall outlined the themes of the various studios, while models were arranged on a series of huge tables. The centre of the room was dominated by a bar in the shape of the ArcSoc logo (itself modelled on the cross section of a standard architect's scale rule). The ground floor of the warehouse housed the first and second years.
The first year work was displayed on a series of huge lecterns while the design and build projects were placed on plinths like museum objects, the hanging chair proving exceptionally popular. The second year created a series of small 'rooms' out of partitions, one for each unit.
The Masters in Architecture and Urban Design took over the atmospheric first floor. This is the first year that the final year Masters students had completed and submitted in time for the exhibition and they produced a series of installations and plinths with drawings hung from the ceiling on cables.
The opening night proved exceptionally popular with queues down the street to get in and the exhibition succeeded in a attracting a large number of visitors over the following days. The holding of the exhibition is particular popular with London practices who came in large numbers to find prospective employees.
The enormous amount of effort of involved is a tribute to the ingenuity and diligence of the students who work so hard throughout the year to create the event, which marks the culmination and end of the year.