Principal Investigator: Michael Ramage
Post Doctoral Research Associates: Maximilian Bock, Bhavna Sharma
Research Assistant: Ana Gatóo
MEng Student: Tom Harrison
Sponsor: EPSRC
In collaboration with:
Cambridge Architectural Research (P.I: Helen Mulligan), MIT (P.I: Lorna Gibson), University of British Columbia (P.I: Greg Smith)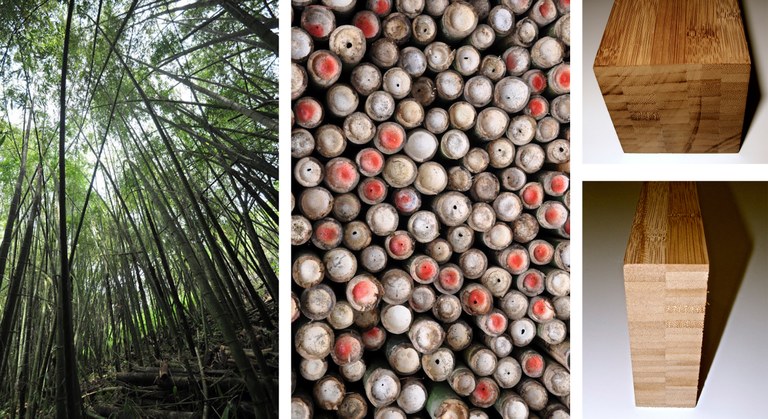 This project sets out to develop a code of practice for structural design and building construction with Structural Bamboo Products (SBP).
Bamboo has been used in construction since ancient times. It has many advantages as a construction material: It is a renewable, sustainable resource, with mechanical properties similar to those of wood, but with a 5 times higher growth rate than wood. The FAO's 2010 Forest Resource Assessment indicates that there are over 31.4 million hectares of bamboo worldwide.
The widespread usage of SBP is hampered by a lack of data for mechanical and thermal properties, for their manufacture, and a lack of appropriate building codes. Our goal is to develop a code of practice for structural design and building construction with SBP by
- creating material models of natural and engineered bamboo,
- creating products and manufacturing capability for SBP,
- performing structural experiments,
- adapting existing building codes for timber in earthquake areas to bamboo,
and by developing an understanding of the environmental characteristics of bamboo materials and their production.
The project is a new collaboration with MIT, UBC and Cambridge Architectural Research. This research will contribute to the knowledge base and use of engineered bamboo. A major focus of the project is to enhance sustainability of building products through the development of a lower-carbon alternative to conventional structural components. Furthermore, well-designed buildings incorporating SBP will have lower operating energy use, and thus emit lower levels of carbon throughout their life cycles. The SBP and codes we develop will be a viable alternative to steel and concrete members, with a global outlook for sustainability.